According to Greek mythology, the founder of the city was a son of Zeus called Lacedaemon. He gave his name to the region (Lacedaemonia or Laconia) and his wife's name to the city, Sparta. Sparta; The little city-state that fascinated the Greeks! The History describes the destiny of the ancient Dorian Greek state known as Sparta from its beginning in the legendary period throughout the Archaic and Classical periods. Sparta was famous for its military prowess. Spartans; The best citizen soldiers the world has ever known and probably most feared fighters in Greece, fighting with distinction at such key battles as Thermopylae and Plataea in the early 5th century BC.
[Sparta was everywhere admired and nowhere imitated.], written by the Athenian philosopher Xenophon
Highlights of the Discover legendary Sparta in a brilliant 8-hour private tour
The famous Corinth canal
Modern and ancient Sparta
10 h with an experienced English-speaking tour driver
Visit the Acropolis of Sparta, the theater, the archaeological site
The Statue of Leonidas
The Byzantine Mystras
ITINERARY DETAILS
Description of Discover the legends of Sparta in an 8-hour private tour
Pass By: Morning drive through Athens and its surroundings passing by the towns of Megara (King Bizas where the Byzantium city "Constantinople" took its name from), Elefsina (Elefsinia mysteries), several resort towns like Ag. Theodoroi, Kineta…, till we reach the famous Corinth Canal!
Stop At Corinth Canal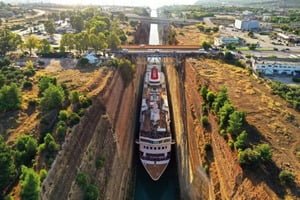 Argolis is one of the most interesting Greek provinces, travel with us through time for this amazing one day visit to ancient Corinth. The tour opens with a seaside drive passing coastal villages and the island of Salamis (set of the historical naval battle between the Athenians and Persians). Our first pause the Corinth Canal. Finally opened in 1894, separating the Peloponnese Peninsula from the rest of Greece while connecting the Saronic Gulf (Aegean Sea) to the Corinthian Sea (Ionian Sea). You'll have time to stretch your legs, walk across on a pedestrian bridge and admire the canal closer (if you're game) on some days bungee jumping is an option.
Duration: 20 Minutes
Admission Ticket Free
Pass By: Continue our private tour traveling through the impressive landscape of western Peloponnese towards Sparta.
Stop At Sparta;
There are 4 top things to do in Sparta; 1. See the statue of King Leonidas, 2. Visit the archaeological site of ancient Sparta, 3. Visit the Greek olive and olive oil museum or the archaeological museum, 4. Visit the famous Mystras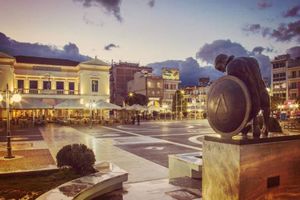 At first visit the impressive King Leonidas statue standing just a few meters north of the archaeological site of Sparta. Leonidas was the legendary king of ancient Sparta (battle of Thermopylae 5th century BC. See the movie "300"). Almost next to the statue lies the hill of the acropolis. Visit the ruins of the 2nd-century B.C theater,  one of the largest theaters in Ancient Greece, but unfortunately, most of the stones from the site were later scavenged and used in subsequent construction projects. This statue is a testament to the fading ruins of the Spartan legacy. Take some pictures and visit the Sparta Lakedemonia archaeological site great in Greek history! Sparta is second only to Athens in terms of historical significance. Do not miss to visit the archaeological museum of Sparta full of ancient artifacts. Open daily (except Tuesdays) from 8:30 am-3 pm. Alternatively, you can visit the Greek olive and olive oil museum you will discover all there is to know about olive oil, an important staple of Greek life.  Open on Wednesday-Monday from 10 am-6 pm.
Duration: 110 Minutes
Admission Ticket Not Included
Time for Lunch:
Free time for lunch (not included) to taste some local dishes! Sparta isn't very big so there are only a few favorite places for locals' hotspots, which features Lakonian specialties.

Pass By: After time for lunch drives through Sparta for a 15 minute drive up on Mystras.
Stop At Mystras
Visit Mystras witch together with Sparta it's called; the 'Wonder of the Morea'. Here visit the monasteries in the castle and admire the breathtaking views of Sparta. These Byzantine ruins are one of the best and most important places during the byzantine empire! Visit one of the many Byzantine churches, the impressive fortress, and hike around the area. Mystras is considered the biggest attraction in the region. Open daily from 8 am-8 pm.
Duration: 60 Minutes
Admission Ticket Not Included
Notice: There are people who say that there is no much to see in Sparta. Well, all I can say to you is that there is no shortage of things to do in Sparta, like excursions to take, or impressive places to eat. Most travelers skip Sparta as it's out of the way, as they say, but be sure that you can get all the history of Greece without the tourist crowds of Athens. If you want to feel the power of Sparta, I wouldn't suggest skipping this experience! You will be very rewarded, giving you the chance to explore Greece by skipping crowds!

Pass By: After  Mystras, will travel back to Athens using the same way. Late arrival at your hotel in Athens.

More tour in Pelloponesse close to Sparta here!
DEPARTURE | RETURN
Transfer offerd; Travelers pickup/drop off is offered.
Pick up from; We will pick you up from any hotel or apartment in Athens center and Piraeus cruise port at the cruise ship pier!
Info needed When booking make sure to include the address of your accommodation, or the name of the cruise line and the cruise ship!
Pick up time; We propose to pick you up at 8 am in order to avoid traffic and crowed at the Acropolis.
Drop off; We will drop you off at the same place we have picked you up or at any hotel in Athens center or cruise ship pier!
INCLUDED | EXCLUDED
What is Included
Professional driver with good knowledge of history and culture in Greece
Transport by air-conditioned vehicle appropriate for the size of your group
Accommodation is based according to availability (for multiple day tours only)
Flexible pick up time on request (proposed 08:00AM)
Free Pick-up from and return to your hotel
Free Pick-up & drop off from Piraeus cruise port
Athens Airport transfers or pickup locations outside Athens: arranged on request with surcharge
First class transport: By Mercedes E-Class or similar; Mercedes minivan or Mercedes minibus according to the size of your party. All new models come with full leather and A/C.
Road tolls and local taxes
Official licensed tour guide for guiding in archeological sites. Available on request with surcharge
The private tour is 100% exclusive for your party
What is Excluded
Wine tasting fee (wine tours)
Athens Airport transfer: arranged on request with a surcharge
Gratuities (optional)
Food and beverage
Your private chauffeur/guide will discuss a program best suited to your interest and mobile abilities. Option for a professional tour guide with a state license at an extra cost.
IMPORTANT NOTES
Tour Type
Private tour - Shore Excursion
Activity level: Moderate
Departures: Daily
Restrictions
Due to the high complexity and uncertainty of contemporary transportation, as well as unexpected situations, the planned itinerary can change at any moment and our choices may be affected by any social, economic or environmental phenomena!
Guaranteed Departures
Best Greece Tours is proud to be the first in the industry to offer Guaranteed Departures . A guaranteed departure means; There is no minimum number of bookings required on a trip to run and that the tour will definitely operate on the day it is scheduled and will not be cancelled. All guaranteed departures will run except in the event of a natural disaster or other similarly disruptive event that is beyond our control. Our current collection of tours can take you to exciting places in Athens and around the world.
How will we use the information you wll give us about you!
Passenger Detail; We need basic contact details so we can send appropriate booking information to you as well as make sure the supplier can contact you should they need to.
Flight Details; We will need to know your exact travel details so they can track flight time as well as make sure they get you to and from your destination with no delay.
Accommodation Details; We need to know your pick-up and drop-off address to ensure the right price and that we know exactly where to meet you or take you.
Payment Details; We will pass your payment details to our secure payment provider, but we do not see or store any of these details on our website payment details.
Importantant information!
Dress: religious and memorial sites: shoulders and knee must be covered.
Confirmation will be received at time of booking
A voucher will be emailed to you with our contact numbers and all necessary information for your tour.
This is your ticket and proof of purchase. On the day of tour please present a paper voucher in order to redeem your tour/activity.
Itinerary (break-down)Due to the high complexity and uncertainty of contemporary transportation, as well as unexpected situations, the planned itinerary can change at any moment and our choices may be affected by any social, economic or environmental phenomena!
Persons with Disabilities
Due to uneven surfaces, certain sites are not recommended for persons with walking disabilities or using a wheelchair. Such sites are the Acropolis, the Temple of Poseidon at Sounion, Mycenae, Delphi and Meteora.
In all cases, we recommend comfortable flat-solid walking shoes, sunglasses and sunscreen.
For guests who are full-time wheelchair users a ramp vehicle will be needed. Guests may remain in their wheelchair or scooter for the duration of the excursion. Wheelchair or scooter dimensions are required in order to confirm the correct vehicle!
Wheelchair or small scooter folding type only. (Please note that disabled passengers must be able to board the vehicle independently or with the assistance of those in their party.)
Opening hours & Admission fees
Opening Hours: Summer April 1st to October 31st from 08:00 AM to 07:30 PM
Winter: November 1st to March 31st from 08:30 AM to 03:00 PM
Free admission fees: Children under 18 & Students from E.U.
Reduced admission fees: Citizens of the E.U. aged over 65 & Students from countries outside the E.U.
Free admission days
March 6: In memory of deceased Minister of Tourism & visionary Melina Mercouri
June 5: Environment international day
April 18 : International monuments day
May 18: International museums day
September 27: International tourism day
The last weekend of September annually (European Heritage Days)
National Holidays
Sundays in the period between 1 November and 31 March
The first Sunday of every month, except for July, August and September
NOTE: If the first Sunday is a holiday then the second is the free admission day
Holidays in Greece
January 1: closed
January 6: 08:30 AM - 03:00 PM
Shrove Monday: 08:30AM - 03:00 PM
March 25: closed
Good Friday: 12:00 PM - 03:00 PM
Holy Saturday: 08:30 AM - 03:00 PM
Easter Sunday: closed
Easter Monday: 08:30 AM - 03:00 PM
May 1: closed
Holy Spirit Day: 08:30 AM - 03:00 PM
15 August 15: 08:30 AM - 03:00 PM
October 28: 08:30 AM- 03:00 PM
December 25 & 26: closed
CANCELLATION POLICY
Sedans; Within 24 hrs of travel 100% fee will apply. Outside of 24 hrs a €2 per person cancellation charge will apply.
Minivan; Within 36 hrs of travel 100% fee will apply. Outside of 36 hrs a €2 per person cancellation charge will apply.
Minibus 10-20 seats; Within 96 hrs of travel 100% fee will apply. Outside of 96 hrs a €2 per person cancellation charge will apply.
For all vehicles; No show mean, no refund
BOOK ONLINE YOUR PRIVATE TOUR IN ATHENS & GREECE