Enjoy Athens Sparkle at Night! The Athens by Night private tour should be on every visitor's' must-do' list and is one of our favorite best-rated tours. Athens with the glorious past is stunning during the day but at night the city really sparkles! Sit back, relax and enjoy the night with your own friendly, Greek driver/guide on this Luxury Private Tour! Best Greece tours will take you to some of Athens's most vibrant and famous landmarks at night. Guests will get to view the famous highlights of the city from specially selected locations.
Highlights of the Glamorous Athens by night half-day 4-hour private tour
Take impressive photos of the most famous memorial of western civilization
An expert English-speaking tour driver
Take photos of the Acropolis and the Parthenon lighted
Enjoy a drive to the picturesque city of Athens by night
Dance in the rhythm of Greek music in a traditional restaurant
Taste Greek cuisine while having dinner
ITINERARY DETAILS
ITINERARY (break-down)
Start:  Pick up from your hotel in Athens, address in Athens, or cruise ship pier at Piraeus port.  The evening starts by heading to the center of Athens through some of Athen's more colorful and vibrant localities. The commentary provides guests with a fascinating account of how these areas have evolved over the years.
Duration: 10 Minutes average
Pass By: Head on towards the Melina's Mercury statue, the famous Herodou Attikou street that leads you to the Acropolis museum and the Acropolis, the Temple of Olympian Zeus and Hadrians Arch or else the Athens Gate, The Zappeion Megaron is a part of the national heritage of Greek civilization and it is a donation from Zappas to the state!
Stop At: Panathenaic Stadium
We will stop for pictures at the Panathenaic Stadium where the first modern Olympic Games were held in 1896. The Panathenaic (Kalimarmaro) Stadium is one of the main historic attractions of Athens and the only stadium in the world built entirely of marble. A stadium was built on the site of a simple racecourse by the Athenian statesman Lykourgos (Lycurgus) c. 330 BC, primarily for the Panathenaic Games. The stadium hosted the opening and closing ceremonies of the first modern Olympic games in 1896. It was used once again as an Olympic venue in 2004. Today is the finishing point for the annual Athens Classic Marathon and it is the last venue in Greece from where the Olympic flame handover ceremony to the host nation takes place. Take some pictures and we'll continue to our net stop.
Duration: 10 Minutes
Admission Ticket Not Included
Pass By: The statue of Truman (the USA president), the Runner statue made all of it of glass, the Megaron the music hall and conversion center of Athens, tour through Kolonaki the high end of Athens center.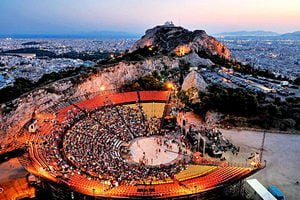 Stop at: Mount Lycabettus,
also known as Lycabettus, Lykabettos or Lykavittos, is a Cretaceous limestone hill in Athens, Greece at 277 meters (909 feet) above sea level, a bit less than twice as high as the Acropolis. . Pine trees cover its base, and at its two peaks are the 19th century Chapel of St. George, a theatre, a cafeteria, and a restaurant. The tallest of Athens' seven hills rises abruptly out of the middle of the city and like the Acropolis, which it towers above, it is visible from almost everywhere. There is no way you can miss Mount Lycabettus. It almost begs to be climbed and sooner or later, if you have a spare afternoon in Athens and you are even moderately fit, you are going to be tempted to have a go. The main reason people climb Lycabettus is to enjoy the astonishing 360° views from Athens' highest and most central point.
Pass By: After Lycabettus will drive again through Kolonaki and the historical site of the city passing by the war museum, the Byzantine museum, the museum of ancient archaeological Cyclades civilization, the national garden (ex-royal garden), the Plateia Syntagmatos Syntagma Square, the central square of Athens. The square is named after the Constitution that Otto, the first King of Greece, was obliged to grant after a popular and military uprising on 3 September 1843.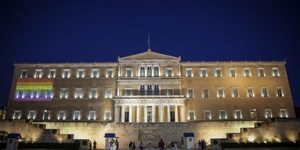 Stop At: Hellenic Parliament.
The Hellenic Parliament, in Greek known as Voulí ton Ellínon is the parliament of Greece, located in the Old Royal Palace, overlooking Syntagma Square in Athens. The Parliament is the supreme democratic institution that represents the citizens through an elected body of Members of Parliament. See the Tomb of the Unknown Soldier. Watch the changing of the guard (Euzones) in front of the ex-royal palace, today the Parliament House of Greece, above the central square of Athens.
Duration: 10 Minutes
Admission Ticket Free
Pass By: Numismatic Museum of Athens, Attica shopping mall, the Catholic cathedral of Athens, The Academy of Athens. The Building constitutes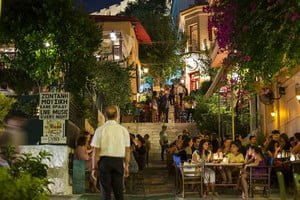 one of three parts in an "architectural trilogy". It was founded with the Constitutional Decree of March 18th, 1926, as an Academy of Sciences, Humanities and Fine Arts, The Kapodistrian University of Athens,  The National Library of Greece was built at the end of the nineteenth century, as the last of the Architectural of Athens, a group of three neoclassical buildings which also includes the Academy and the University. The building was designed by Theophil Hansen, Council of State, Kolokotronis statue (Theodoros Kolokotronis; The ultimate Symbol of the Greek Revolution of 1821 against the Ottomans!), The National Historical Museum (old parliament house of Athens), the constitutions square, Ermou str. ( the Athens central shopping street).
Stop At: Plaka.
Wonder around Plaka the old part of Athens with it picturesque neighborhoods and pedestrian streets full of cafes, restaurants and all kind of shops! You will enjoy now your dinner in a Greek tavern with Greek music and dancing! You will then have the opportunity to taste Greek food by a sample of the famous Greek meze!
Duration: 120 Minutes
Admission Ticket: Free
Have your camera ready and take some of the most unique photos of your travels in Greece.
As the tour winds to a close we will then drive across the Athens Acropolis and stop at another fabulous location where you will have the chance to admire the amazing view and catch some amazing pictures!
Pass By:  After the end of our visit, we'll take the same way back to Athens.
We will arrive back at your hotel at approximately 23:00.
More Athens Half Day Tours Here…
DEPARTURE | RETURN
Transfer offerd; Travelers pickup/drop off is offered.
Pick up from; We will pick you up from any hotel or apartment in Athens center and Piraeus cruise port at the cruise ship pier!
Info needed When booking make sure to include the address of your accommodation, or the name of the cruise line and the cruise ship!
Pick up time; We propose to pick you up at 8 am in order to avoid traffic and crowed at the Acropolis.
Drop off; We will drop you off at the same place we have picked you up or at any hotel in Athens center or cruise ship pier!
INCLUDED | EXCLUDED
What is Included
Professional driver with good knowledge of history and culture in Greece
Transport by air-conditioned vehicle appropriate for the size of your group
Accommodation is based according to availability (for multiple day tours only)
Flexible pick up time on request (proposed 08:00AM)
Free Pick-up from and return to your hotel
Free Pick-up & drop off from Piraeus cruise port
Athens Airport transfers or pickup locations outside Athens: arranged on request with surcharge
First class transport: By Mercedes E-Class or similar; Mercedes minivan or Mercedes minibus according to the size of your party. All new models come with full leather and A/C.
Road tolls and local taxes
Official licensed tour guide for guiding in archeological sites. Available on request with surcharge
The private tour is 100% exclusive for your party
What is Excluded
Wine tasting fee (wine tours)
Athens Airport transfer: arranged on request with a surcharge
Gratuities (optional)
Food and beverage
Your private chauffeur/guide will discuss a program best suited to your interest and mobile abilities. Option for a professional tour guide with a state license at an extra cost.
IMPORTANT NOTES
Tour Type
Private tour - Shore Excursion
Activity level: Moderate
Departures: Daily
Restrictions
Due to the high complexity and uncertainty of contemporary transportation, as well as unexpected situations, the planned itinerary can change at any moment and our choices may be affected by any social, economic or environmental phenomena!
Guaranteed Departures
Best Greece Tours is proud to be the first in the industry to offer Guaranteed Departures . A guaranteed departure means; There is no minimum number of bookings required on a trip to run and that the tour will definitely operate on the day it is scheduled and will not be cancelled. All guaranteed departures will run except in the event of a natural disaster or other similarly disruptive event that is beyond our control. Our current collection of tours can take you to exciting places in Athens and around the world.
How will we use the information you wll give us about you!
Passenger Detail; We need basic contact details so we can send appropriate booking information to you as well as make sure the supplier can contact you should they need to.
Flight Details; We will need to know your exact travel details so they can track flight time as well as make sure they get you to and from your destination with no delay.
Accommodation Details; We need to know your pick-up and drop-off address to ensure the right price and that we know exactly where to meet you or take you.
Payment Details; We will pass your payment details to our secure payment provider, but we do not see or store any of these details on our website payment details.
Importantant information!
Dress: religious and memorial sites: shoulders and knee must be covered.
Confirmation will be received at time of booking
A voucher will be emailed to you with our contact numbers and all necessary information for your tour.
This is your ticket and proof of purchase. On the day of tour please present a paper voucher in order to redeem your tour/activity.
Itinerary (break-down)Due to the high complexity and uncertainty of contemporary transportation, as well as unexpected situations, the planned itinerary can change at any moment and our choices may be affected by any social, economic or environmental phenomena!
Persons with Disabilities
Due to uneven surfaces, certain sites are not recommended for persons with walking disabilities or using a wheelchair. Such sites are the Acropolis, the Temple of Poseidon at Sounion, Mycenae, Delphi and Meteora.
In all cases, we recommend comfortable flat-solid walking shoes, sunglasses and sunscreen.
For guests who are full-time wheelchair users a ramp vehicle will be needed. Guests may remain in their wheelchair or scooter for the duration of the excursion. Wheelchair or scooter dimensions are required in order to confirm the correct vehicle!
Wheelchair or small scooter folding type only. (Please note that disabled passengers must be able to board the vehicle independently or with the assistance of those in their party.)
Opening hours & Admission fees
Opening Hours: Summer April 1st to October 31st from 08:00 AM to 07:30 PM
Winter: November 1st to March 31st from 08:30 AM to 03:00 PM
Free admission fees: Children under 18 & Students from E.U.
Reduced admission fees: Citizens of the E.U. aged over 65 & Students from countries outside the E.U.
Free admission days
March 6: In memory of deceased Minister of Tourism & visionary Melina Mercouri
June 5: Environment international day
April 18 : International monuments day
May 18: International museums day
September 27: International tourism day
The last weekend of September annually (European Heritage Days)
National Holidays
Sundays in the period between 1 November and 31 March
The first Sunday of every month, except for July, August and September
NOTE: If the first Sunday is a holiday then the second is the free admission day
Holidays in Greece
January 1: closed
January 6: 08:30 AM - 03:00 PM
Shrove Monday: 08:30AM - 03:00 PM
March 25: closed
Good Friday: 12:00 PM - 03:00 PM
Holy Saturday: 08:30 AM - 03:00 PM
Easter Sunday: closed
Easter Monday: 08:30 AM - 03:00 PM
May 1: closed
Holy Spirit Day: 08:30 AM - 03:00 PM
15 August 15: 08:30 AM - 03:00 PM
October 28: 08:30 AM- 03:00 PM
December 25 & 26: closed
CANCELLATION POLICY
Sedans; Within 24 hrs of travel 100% fee will apply. Outside of 24 hrs a €2 per person cancellation charge will apply.
Minivan; Within 36 hrs of travel 100% fee will apply. Outside of 36 hrs a €2 per person cancellation charge will apply.
Minibus 10-20 seats; Within 96 hrs of travel 100% fee will apply. Outside of 96 hrs a €2 per person cancellation charge will apply.
For all vehicles; No show mean, no refund
BOOK ONLINE YOUR PRIVATE TOUR IN ATHENS & GREECE